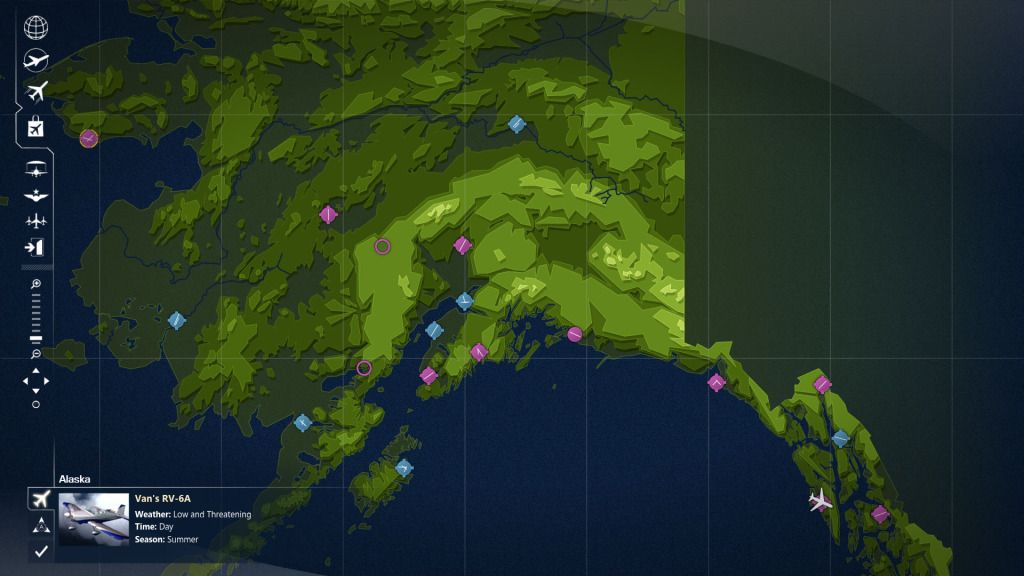 My, it didn't take long did it? A day or so earlier I'd commented that I felt 'it in my bones' that MS would release a 3d pit for the Carbon Cub, then this morning we discover, via Facebook (of course) that they ARE!
Too cool, as you may have seen from the first Alaska overview video, it is rather capable at STOL!
More significantly, to us it shows that Microsoft are listening, silently watching all the posts at AVSIM and the Steam forums, then ultimately responding to demand. First TrackIR, smoother trim steps and toe brake support, then improvements to weather schemes, now this. All with no bugs, or none that I've experienced anyway!
Now, what does the Fractal headline mean? Ok, come with me on a trip…
To the Anchorage area of AK (Im already sounding like a local!):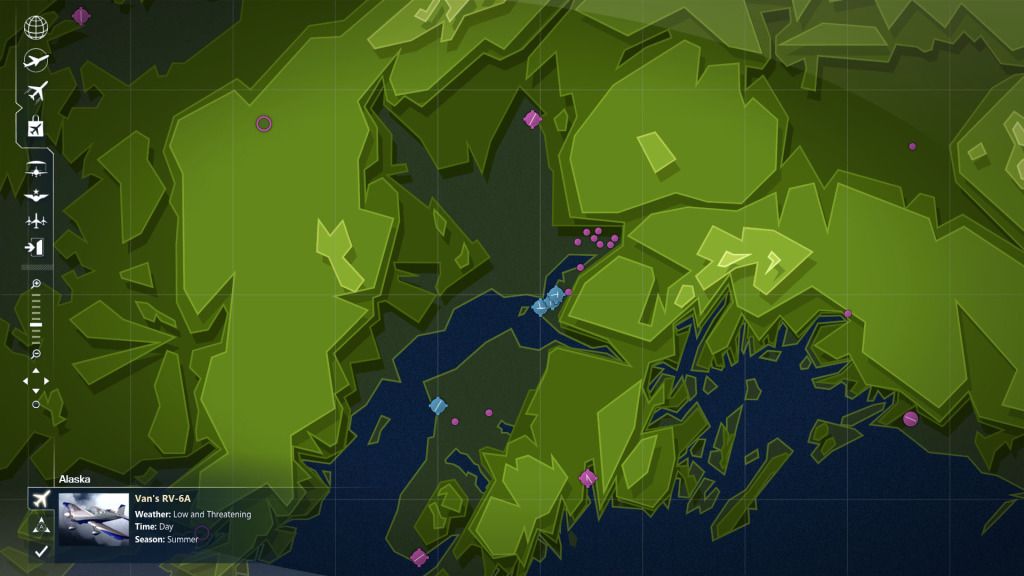 Hmm, a few facilities nearby. Lets zoom in closer, using the stupidly easy and quick to use map, no lag in this baby!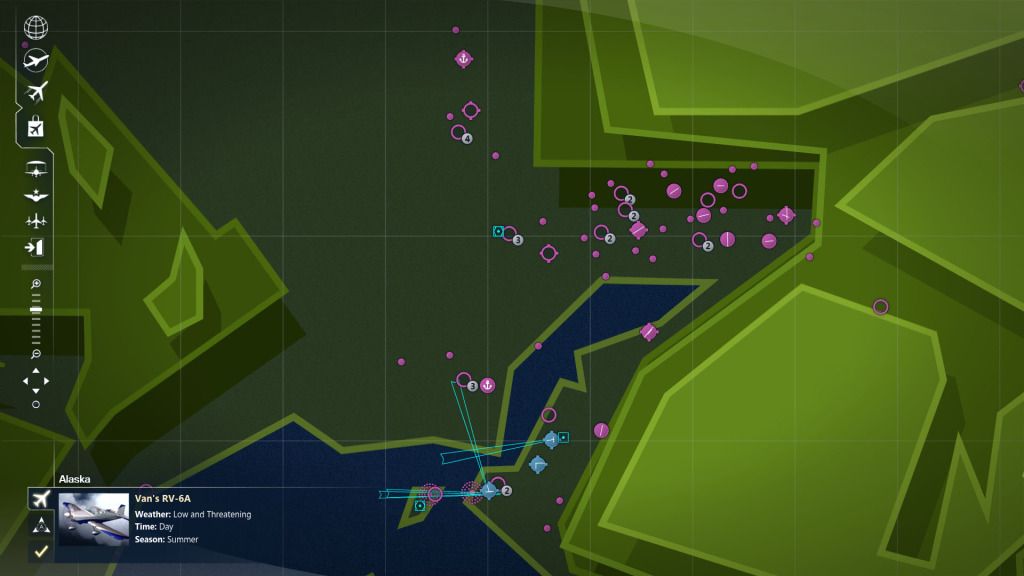 Oh dear, I didn't realise how many airfields were in the area! Remember, every dot is a real airfield or floatplane locale that you can use in the sim.
If you're still not bored, keep with me. Another zoom level: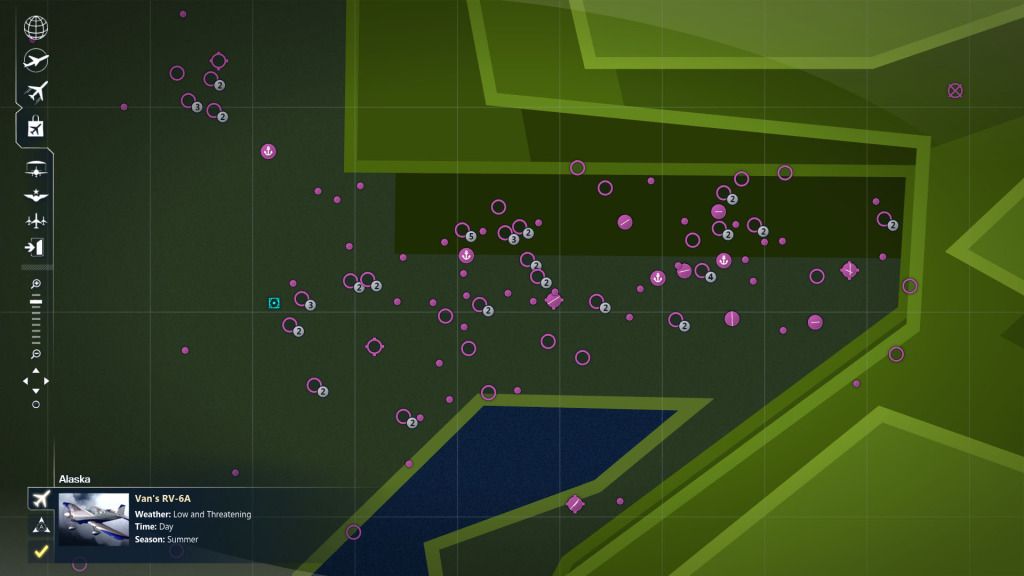 Haha, I got bored, so I counted every one of those dots- 119! Incredible. This is what I meant by a Fractal, Ever-increasing detail. And NO, this guy is NOT taking a picture of every strip and categorizing them for you!
I have taken some random shots of a couple. Some of the strips have no airfield facilities modelled at all, merely sitting amongst gorgeous autogen. First that annoyed me, but the very near autogen, being beautifully done, appeased me. Maybe an autogen static plane or 2 might suffice. A small shed. Just something. I did notice some Windsocks. Here's one pic:
Not finished our tour yet: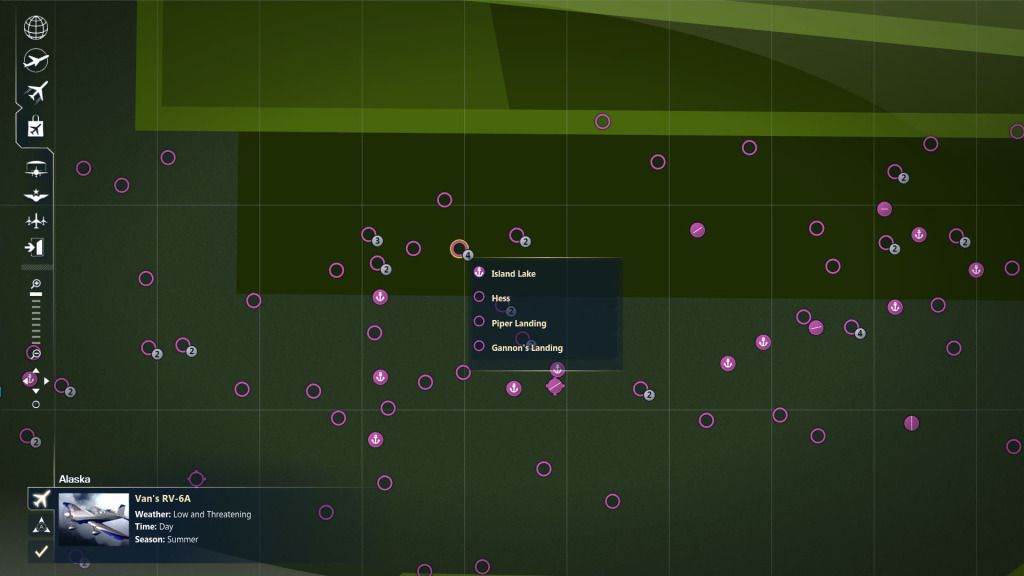 This is the final level of detail, where I've clicked on one of the white airfield dots- it shows that there are even more facilities, just too close for the map to resolve. Spectacular stuff. How much again? 1,500 cents. Sorry, $15.
The value of this pack is even greater if you go back to the very first map image up top and see the tiny size of the area we've just visited, in comparison to the rest of AK. This could keep part-time flyers like me occupied for months. Thankfully the area I just covered is a particularly dense area of AK, there's only another 400 or so scattered across the rest of Alaska.
Now I see why many devs were so critical of Flight. These guys are very smart, out to dominate and doing an excellent job. As a consumer, I congratulate them. If I was a dev, I'd be saying that MS taking only a 30% cut of my sales was a bargain, I wish I could get just 5% of what they'll be generating at this rate. IMHO anyway..
Oh, a last minute inclusion, since im talking 'other' Sims. Just saw this new video of the upcoming Arma III game, showing off its vehicle handling and fun with big guns! As a scenery nut, I was more transfixed by the valley to the left, knowing that it is all 'real' and viewable from a considerable distance: